Secure payment is available through ClickBank, offering these payment options: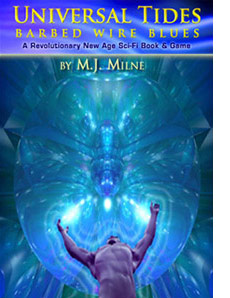 FIVE SIMPLE STEPS TO DOWNLOAD YOUR E-BOOK:

Step 1: In order to open our ebooks which are PDFs, you require Adobe Reader. To download your free Adobe Reader, please click here.

Step 2: Click on the "BUY NOW!" Link. It will take you to a Secure Clickbank form. ClickBank is the web's trusted source for digital products, totally secure and safe. Fill in the form and click onward.

Step 3: A 2nd form will give you secure payment choices, such as eCheck, Paypal, Credit Cards, or Debit Card. Please know that Clickbank does not store credit card numbers. Fill in the form and click onward. You will be given a ClickBank Order Number for reference. (Later, your bank statement will show a charge by CLKBANK)

Step 4: Then…Click on "Click Here To Complete Your Order." It will take you directly to the Download Page and a simple download step!

Step 5: On the Download Page, click on "01: THE E-BOOK" and a New Window will open to download the eBook onto your computer. Immediately do a FILE >> SAVE A COPY or "Save As" and Save the eBook's PDF file onto your computer. If you close it without saving it, you will lose it!

Next, if you choose to download the game board, go back to the Download Page and click on "02: YOUR FREE GAME." It will download in a new window. Again, immediately do a FILE + SAVE and Save the Game Board PDF file onto your computer.

I hope you enjoy your purchase!
Let us know by writing a Testimonial, or make a comment on the Outlanders Forum.
Live to Live!
MJM

P.S. - IMPORTANT! - After You Download - Make sure you SAVE the file before closing Adobe Reader or you will lose it. In Adobe, click on 'File' and then 'Save As' and choose where you wish to save it.

Information about Exchange rates
"Prices for the eBook 'Universal Tides' are shown in $USD dollars. To find out what the current exchange rate between American dollars and your local currency, we suggest you may wish to visit an international currency exchange website e.g., www.xe.com Please note that the amount you will be charged on your final order may vary because of currency differences.


Other Great Products From M. J. Milne!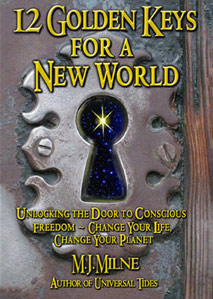 "12 GOLDEN KEYS FOR A NEW WORLD"
Unlocking the Door to Conscious Freedom
~ Change Your Life, Change Your Planet

Author: M. J. Milne
ISBN: 978-0-9739654-1-4
Price: $24.95 / CAD
Book details: Paperback, 6" x 9", 312 pages
Description: Prepare for a new world and discover your place within it. Overcome life's challenges by accessing your personal oracle-Soul-which guides you to live with freedom, passion, and purpose.

ORDER THE NEW BOOK
BY M.J. MILNE:
From our online bookstore at www.12goldenkeys.com

From Amazon.com


By using the 12 Golden Keys
the author has discovered it
is possible to:

* Live to Live with passion, purpose, and freedom
* Change your life by using practical tools and key exercises
* Unlock the real secrets to who you are
* Let go of worry, fear, and stress
* Understand the death of a loved one
* Make excellent business and life decisions
* Overcome challenges with health, money, and relationships
* Recognize and follow divine guidance right NOW.

Reviews & Endorsements
for M. J. Milne's 12 Golden Keys for a New World

"MJM's book is an important practical guide with a valuable message about
how the power of soul can influence and transform your life. I consider this
path of the 12 Keys to be a universal spiritual practice, journey into
healing the mind, body, and spirit."
- JAMES TWYMAN, Peace Troubadour & New York Times bestselling author

"M. J. Milne's book is a primer on how to find our way through the daunting
world of the twenty-first century. She uses her own experiences to show the
twelve golden keys in action. Exercises, personal stories from all over the
world-everything to make it as easy as possible to follow the path to
conscious freedom."
- CLÉLIE RICH, poet, editor, and member of Room's editorial collective

"I love how this book is a practical yet also spiritual guide to living on
this wonderful planet of ours! The thirty stories from real people are each
truly amazing!"
- RAYMOND AARON, New York Times bestselling author of Chicken Soup for the
Parent's Soul

.